Welcome to my website.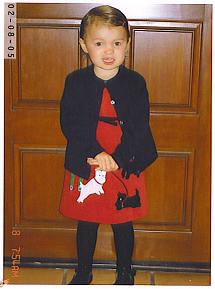 I'm Helena Howell,  and in here you will be able to learn all about me, my family and my travels abroad. This is me in my new outfit. My Uncle Greg and Auntie Jeanine have a little white dog just like the one on my dress. Click on the picture to see me better.
What's inside?
Info about me, of course.
Places I've visited.
Some neat stuff about my family and friends.
And of course, loads of pictures of yours truly.
So come on in and look around, have fun, and be sure to sign the guestbook.